Halloween is back again and we are all set to make use of it as much as we can. Halloween shopping has been started and people are going crazy to get the best costumes, accessories and makeup stuff for it. I am sure it is going to be an amazing day for all of us.
Check out these Spooky & Cute Halloween Nail Decals & Stickers 2021. These are breathtaking scary, super amazing  to paste on your nails  and especially really very helpful if you are a learner and a beginner. Make skulls, spooky faces, gory images, spiders, witches with broom, ghosts, pumpkins and stuff like that on your nails.
Boo the world around you and stay safe.
Pumpkin, Spider, Skull, Ghost Witch, Halloween Stickers
Skull Nail Art Stickers
Skull, Pumpkin, Bat, Ghost Witch Spider Maple Leaf Design 
Halloween 
Nails 
Skull, Ghost, Eye ,Hulk, Clown,  Witch 
Halloween 
Nail Art Stickers
Halloween 3D Nail Art Stickers
 Ghost, Web, Blood, Eye, Spider Halloween Nail Decals
Halloween Nail Art Stickers
 Halloween Nail Art Stickers
Halloween Nail Art Stickers
Halloween Full Wrap Gothic Nail Art Stickers
Halloween Nail Decals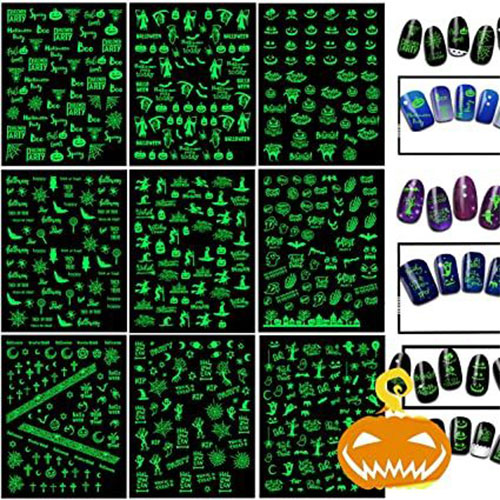 Bat/Ghost/Witch/Spider Web 
Halloween Nail Art Stickers
Halloween Nail Art Stickers
Fall Halloween Nail Sticker
Halloween Themed Nail Stickers