Jingle bells' season is here; the fresh winds are telling us that the winter season is all set to bring before us the most awaited event of the year, Christmas. This is a great time where we can multiple their joys and happiness. Well, Christmas has a lot to do with our lives; it brings enjoyment, excitement, and a lot more surprises. Wear warmers, cozy jackets, stockings and all the costumes/dresses that warm you in the terrific cold of December.
Now here I am providing you with a post of winter & Christmas Coffin Nail Art Designs Perfect For The Holidays 2021. These holiday nails will suit your outfit the best. Do give us your feedback. We wish you all a festive season ahead. Here we go.
Thanks so much for reading!
Winter & Christmas Coffin Nail Art
Christmas Themed Coffin Nail Art
 Snow Flake Coffin Nails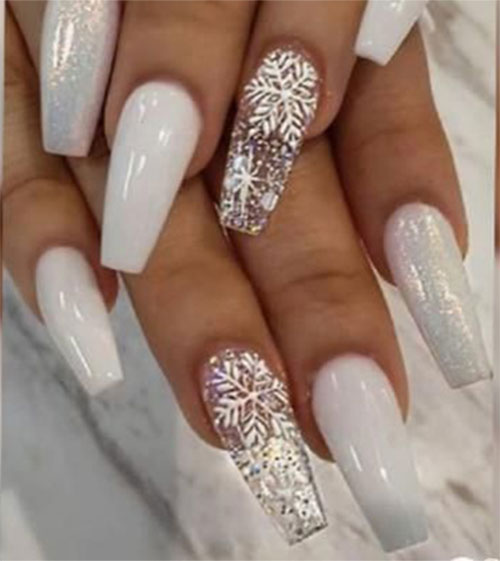 Grey Snow Flake Coffin Nails
 Christmas Red Glitter Coffin Nails
 Blue Snow Flake Acrylic Nails
 Winter Christmas coffin Nails
 Red Christmas coffin Nail Art
 Gold Christmas Coffin  Nails
 Holly Christmas Themed Coffin Nail Art
 Winter Christmas coffin Nails
 Sparkly Christmas Coffin Nail Art
 Christmas Coffin Acrylic Nails
 Sparkly Christmas Coffin Nails
 Gold Christmas Coffin Nails
 Snow Flake Acrylic Nails
 Christmas Coffin Gel Nail Art
 Winter Christmas coffin Nails